Arctic Experience 2009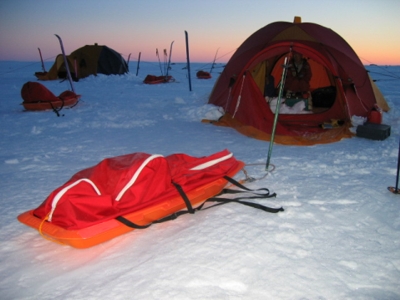 The 'Arctic Experience Expeditions' are aimed at people wanting 'an introductory experience' to travel in Polar Regions. Our expeditions last around one week and teach the basic skills of cold weather travel. These expeditions are not extreme, nor are they expensive. They major on safety, a positive life experience and demonstrate the effectiveness of team-working for a common purpose. - Moreover they are great fun!
During February 2009, we fly via Oslo to Alta - 200 miles North of the Arctic Circle. The first two days we enjoy Norwegian chalet accommodation, allowing time to slow down, examine safety matters, training issues - and of course foster a little team bonding.
Departing Alta via the hamlet of Stilla, we travel on ski, each towing a 35 Kg sledge. Gradually ascending to the high Arctic Finnmark Plateau, we will experience temperatures in ranging from zero to minus 20 (possibly minus 35 at night). - This is not a problem!!
Our route then continues along a marked, but disused summer postal route - ultimately leading to the small 'Sami' town of Karasjok.
Along the way we will ski over numerous frozen lakes including 'Lesjav'ri,' which is over seven miles across. In good weather, we will see the beauty of protracted sunrises and sunsets. The effect of the pink light on the scenery can be stunning. Daylight will not be at a premium and therefore some travel may be necessary by torchlight. On clear evenings, one can expect superb displays from the Northern Lights, because Finnmark is regarded as the finest place in Europe from where to view them. The final part of our journey descends through the tree line of the Boreal Forest, to a frozen river valley, which we follow into Karasjok. We will then be transported back to our chalet for a celebratory meal and our flight home.
This 120-kilometre journey requires about 6 hours of active travel per day. Each night we must work together as a team & quickly - to create a safe and comfortable camp. By the end of the journey, everyone will have learned how to travel through an Arctic wilderness with a "level of comfort" that allows an appreciation of the environment. - The main challenge can be the wind - because in low temperatures it can be testing.