THE FINNMARK EXPERIENCE - MARCH 2004
- By Nick Waldram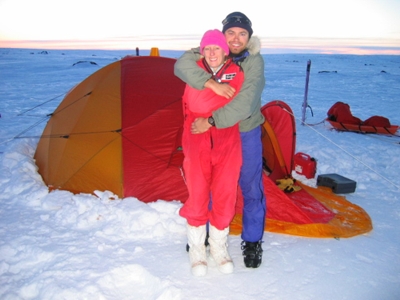 Having never done anything like this before, or any type of walking for that matter, I naturally had fears and concerns about going on this trip. Although having a strong sense of adventure, I thought I must be crazy going somewhere actually colder than England. Clare was excited. She eventually persuaded me to do the trip. Realising this was something important to her, I saw it as a challenge and an experience I would probably never forget.
Having done the physical preparation and somehow managing to pack sleeping bags, rucksacks and food between two pulks we rose at 2am on a cold Sunday morning. The boot was rammed with equipment as we made our way over to Mike's (Thornewill) house, anxious about setting off only to find he was still asleep in bed.
After catching a minibus to Heathrow, the other passengers at the airport must have thought we were mad. We had more luggage than a family of thirty.
Landing in Oslo and transferring to another plane, we landed at Alta, the smallest airport in the world, or so it seemed. We loaded our gear into another minibus and made our way to a resort where we were to stay for the next three days.
I have never seen so much snow in my life. Initially, it didn't feel that cold, though it was colder than back home. That night we caught a taxi into town, enjoying a pizza and a beer and meeting new friends that we would travel with over the next ten days.
Next morning, we awoke to brilliant sunshine and spent time with our new footwear, my worst nightmare, a pair of cross country skis.
The next two days were spent preparing for the trip, preparing rations, packing pulks and having a beer or three. The accommodation was the best we would see for the next six days, although the absence of snoring when out in the open was a welcome relief.
The day before the trip, Mike was getting extremely worried. The weather was warmer than back home and we were having a mega thaw.
As a result of this we had to catch a taxi to the starting point of our walk. We started walking about 11am. Within ten minutes of setting off, it started raining. We had to put waterproofs on. I was expecting to be walking through blizzards, but rain. Mike, who is an old hand at this sort of thing had a very concerned look on his face…and not just because I was with sharing a tent with him.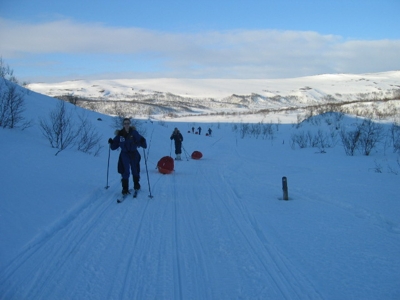 We pitched up camp later in the night. We were in the middle of the arctic, it was getting dark and this was the first time some us had erected a tent. We made dinner from packet food after boiling it with water melted down from the snow. Clare had brought lots of little bottles of vodka and schnapps with her, so we had a little tipple every night.
The worst part of the trip and one of the funniest was sleeping in large orange plastic survival bag that was supposed to keep the condensation out in the sleeping bag and stop it freezing every night. Because it was so warm, it made me sweat my Bo***KS off. It created the phrase every morning when getting up, "I'M IN A SURVIVAL BAG, GET ME OUT OF HERE!".
Every morning we would get up and fuel our bodies for the day whilst Clare, in the middle of the arctic, would put her make up on.
The actual trek wasn't that hard, although there were a few steep hills to walk up, which sometimes was difficult with the skis on. We walked for about six to seven hours a day before setting up camp. It was cold on occasions, but not as I expected. One night, on top of a mountain, we witnessed the most spectacular thing I had ever seen……..the Northern Lights. - Stood outside the tent with just my thermals on (after Mike had nicely turned the heating off) was fantastic and an experience, one I would never forget. No, not seeing Mick in his thermals - the Northern Lights.
The funniest thing was going down hills. We would take our skis off and use the pulks as sleds. Nine out of ten times I would fly off in the bushes somewhere whilst Clare would very lady like, fly past me. The last one we did was unforgettable. Flying down head first behind Mike with a forty foot drop on one side. I couldn't stop laughing, although Clare did think I was going to die!
If you think its all about walking, you'd be wrong. We all took in breath taking scenery, trekked and slept on defrosting frozen lakes, met the Norwegian winter police on their ski doos and watched the World Husky racing championships teams run past us. Our finale was walking down the middle of a frozen lake and then up its banks and into the town of Karajok.
The whole experience was brilliant. Our feet were sore. We both had blisters everywhere, and Clare and Paula lost toenails, but it was worth it. It was challenging and rewarding at the same time. Probably the best thing was meeting and forging new friendships, especially when it got hard sometimes, but for me it sealed mine and Clares relationship, realising how strong and supportive we could be for each other.
After finally reaching the end of the walk we caught the smelliest taxi ever back to Alta, and that was because we stank.
When we got back to little Alta airport, we were celebrities. Everyone had been talking about our trip as noone else is crazy enough to do what we did at that time of the year. We finished the trip off with more pizza and beer before returning back to England.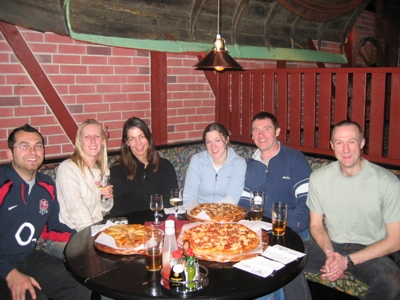 This is an experience I will never forget. The scenery was beautiful and the challenge was rewarding and certainly an unforgettable memory that I will take to the grave. It does make you realise how insignificant some things are in your daily life, a worthwhile journey that I would consider accomplishing again and how important other things are such as a nice bed and a shower.
Photo from left to right: Nick Waldram, Clare Barratt, Paula Herr, Kerry Shardlow, Jason Woods, Mike T.