THE NORTH POLE – THE LAST DEGREE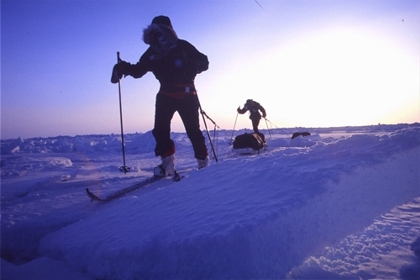 This is a serious Arctic expedition in international waters, which aims to make a surface crossing of the Arctic Ocean between latitude 89N and the Geographic North Pole at 90N. This is known as: 'The Last Degree' - a foot journey of 60 nautical miles (approximately 70 statute miles). It is an exclusive and exciting undertaking - one that commands great respect. Ten times as many people have stood on the summit of Mount Everest as have walked to the Geographic North Pole. Sometimes it can be very challenging - and success is not a given thing.
Currently the expedition departs England circa at the beginning of April 2005, returning approximately 18 days later. We fly via Olso, to the world's most northern settlement - Longyearbyen in Spitzbergen. Here, we stay in chalet accommodation for three nights attending to last minute preparations - with opportunities to explore this unique town.
A few days later when the weather allows, we fly 750 miles north by privately chartered aircraft to 'Ice Station Borneo' at 89 degrees north. 'Borneo' is a tiny floating base erected and operated each year by the Russians for the month of April - after which the ice breaks up. From now on you will be floating on drifting sea ice only a few feet thick - below you the ocean is almost three miles deep. This far north, the sun circles the horizon without setting - casting stunning lighting effects on the jagged icy terrain. Indeed the colours and textures of the varied ice formations, framed by ink black leads and pressure walls are breathtaking. It is a magical place to be.
Without delay our journey begins. Travel will be on skis towing 40 Kg pulks of equipment and supplies. The first day will be short, but thereafter we progress between 6 and 8 hours a day. Each night we shall camp - in surprising comfort - until reaching the North Pole. We will then be collected by helicopter and flown via Borneo to Longyearbyen for a final celebratory night in accommodation - and a hot shower.
The weather is regarded as 'generally stable' in April, although temperatures can sometimes dip below –35C. - However ice conditions are less predictable. Often the movement of the ocean creates areas of open water or thin ice that need careful negotiation. Other times, the ocean currents take you in directions you don't want to go. Frequently your sledge will turn over in rough terrain - and always you will be maneuvering it up and over ice obstacles. Finally, there is the remote possibility of meeting a Polar bear (for which we will be prepared.) This journey can test you mentally as well as physically. Remember you are traveling through the most hostile wilderness on Earth, a place where you can say: 'I am an explorer' - because no North Pole journey is ever the same.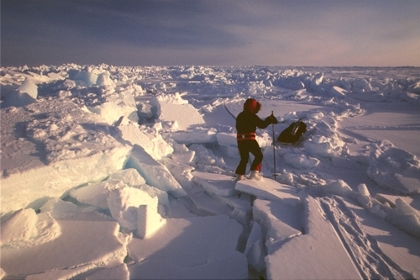 Make no mistake; the Arctic is a beautiful, but supremely hostile environment. For this reason 'safety' is always top priority. It will not be compromised for any reason - because the Arctic never compromises.
Prior to the journey you will be instructed on safety matters and how to work as a team. By the time you return to England you will have gained a rewarding insight into both the Polar environment - and your own self.
The cost of this expedition is £7500.00 per person.
For more details please contact info@polarchallenge.org