SHACKLETON'S UNFINISHED JOURNEY
The South Pole – The last 112 miles
A celebration of Shackleton's epic journey
Foreword by Fiona Thornewill
"Antarctica is the world's highest, driest, coldest and most windswept continent with a barely credible low temperature record of – 89 Celsius. It is a formidable land of extreme and mystery. Conjured up are legendary names such as Scott and Shackleton. Indeed Great Britain has contributed much to Antarctica's discovery.
In 1907 Sir Ernest Henry Shackleton mounted the first significant attempt to walk to the South Pole. Together with companions Adams, Marshall and Wilde, he reached the furthest point south ever achieved at latitude 88'23"S. However, with food running short, Shackleton had to make an immortalising decision: Either turn back, or die. Later he was to tell his wife: 'He thought she would prefer a live donkey to a dead lion.' With victory 97 nautical miles away, he returned by the skin of his teeth, to leave the glory to Scott & Amundsun. But it was Shackleton who found the way."
ITINERARY During December 2007 extending into January 2008, the team will be flown from Punta Arenas at the southern tip of South America to the Antarctic base camp at Patriot Hills. After a few days further preparation we shall fly by Twin Otter to latitude 88'23 S. – Shackleton's furthest South. The team will then live under canvas, travelling on ski, towing sledges of supplies 112 statute miles to the South Pole. Our journey will traverse enormous ice fields and glaciers, finally ascending to the polar plateau at almost 10,000 feet. Always the wind is against us, providing a remorseless minus 50-degree wind-chill. For a novice team, the challenge is huge - but possible.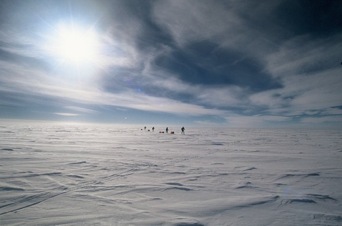 AIMS
To celebrate Shackleton's 1907 expedition to the South Pole by walking to the Pole from the latitude where he turned back.
To create an unique opportunity for four inexperienced people to meet the extreme challenge of completing Shackleton's 1907 route to the South Pole. Those qualifying will receive suitable training.
Novices taking part in challenges like this, invariably develop life-changing skills. Their extreme circumstances enable a re-discovery of many positive and basic human qualities. They acquire new capacities for: Leadership, teamwork and perseverance. In time, their ability to 'think without limits' spins off among others. Such people inspire how everyone can achieve when we set a goal and apply ourselves to that purpose. Great Britain needs people of this calibre.
We believe our endeavour should also benefit the community at home. Therefore funds will be raised for worthy causes chosen by the team
COSTING The interior of Antarctica by its very nature is an expensive place to go. Travel and safety logistics are extremely complex. For this reason, expedition members selected will need to raise £24,000. For more information contact us here: mike@polarchallenge.org